9 Captivating British Mystery Novels & Series Set in Kent
In some cases, we earn commissions from affiliate links in our posts.
The history, people, and natural beauty of the English county of Kent all combine to make it a wonderful setting for murder mysteries. Referred to as "The Garden of England" for hundreds of years, the area is home to numerous orchards, stunning gardens within the grounds of stately homes, and all sorts of agricultural endeavours (including hops and the strawberries served at Wimbledon).
Just a short train ride away from London, Kent is also home to a variety of landscapes that make for interesting mysteries. In a single day, you could find yourself at the dramatic White Cliffs of Dover, the lovely medieval centre of Canterbury, or seaside towns like Margate and Whitstable.
9 Captivating British Mystery Novels & Series Set in Kent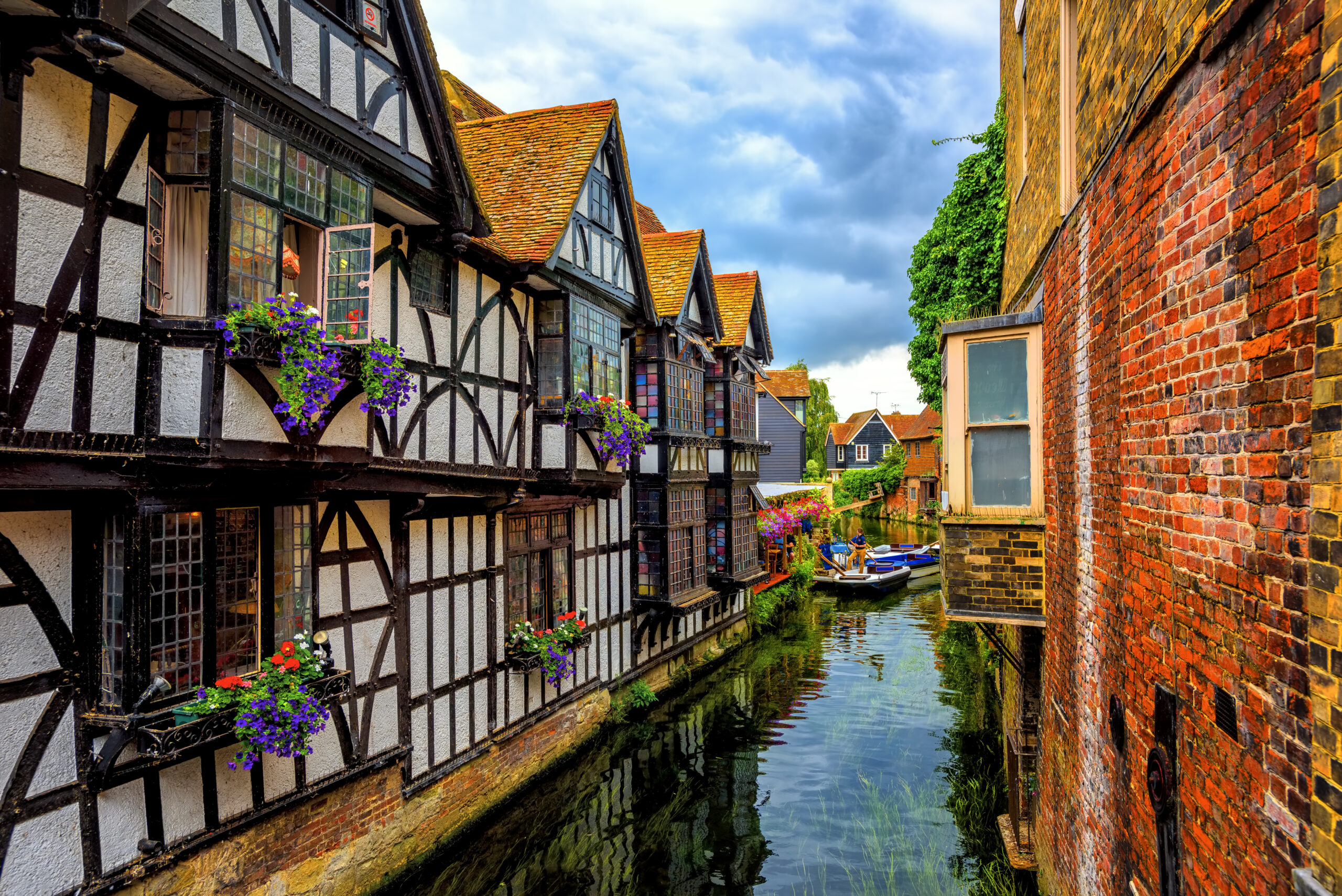 This list of Kent-based novels below is in no particular order in terms of place or preference.
Inspector Thanet Mysteries | Dorothy Simpson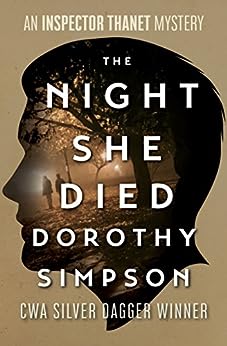 The Inspector Thanet mysteries follow British detective Luke Thanet, a family man with a soft heart, bad back, and great talent for getting to the bottom of tough cases. Unlike many of the hard-drinking, chauvinistic coppers found in books written in the 1980s, Thanet is actually quite pleasant.
The books are set in Sturrenden, and while it's a fictional place, Simpson makes it very clear it's located in Kent. Many have noted the similarities between Sturrenden and the real town of Tenterden (though Tenterden is quite a bit smaller in terms of population). It's described in the following brief passage as…
…a thriving market town of some 45,000 inhabitants. It lay deep in the Kent countryside, surrounded by some of the finest farmland in the South of England.
The book goes on to say that…
In Thanet's opinion Sturrenden had everything: good shops, excellent schools, a plentiful supply of pubs, a number of churches, two cinemas and even, for the culturally minded, a small but first-rate theatre. It enjoyed all hte benefits of country living, yet it was only an hour and a half by fast train to London and close enough to the coast to make summer picnics by the sea an attractive proposition.
There are 15 books in the Inspector Thanet series, the first of which is The Night She Died.
Start Here: Kindle | Audible | Paperback | Bookshop.org (supports independent bookshops)
The Romney Marsh Mysteries | AJ MacKenzie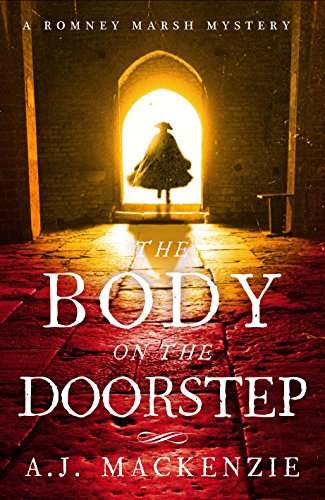 Kent's Romney Marsh is the backdrop for this series of historical mysteries, and it makes for an interesting one because the unique geography factors into the stories. The area is a sparsely populated wetland of roughly 100 square miles, and it's long been a grazing ground for sheep.
In times of war, however, the area made for an interesting defensive zone – and in the days of smugglers, the vast and largely unpopulated area allowed them to get on with their illicit business in relative peace. Though a handful of people do live on or near the marsh, the damp terrain meant malaria was common in nearby residents until the Royal Military Canal's completion in 1806 (which greatly improved drainage and reduced local mosquito numbers).
The Romney Marsh series is set in the very late 18th century, and it begins with The Body on the Doorstep, set in 1796. Upon finding a mortally wounded man at his door, Reverend Hardcastle narrowly escapes the same fate, soon becoming the keeper of the man's enigmatic final words.
With smuggling rampant along the coast, suspicions turn to criminal disputes. But why is the local Customs leader hesitant to investigate? With the astute Mrs. Chaytor at his side, Hardcastle sets off to get answers.
Start Here: Kindle | Audible | Paperback | Bookshop.org (supports independent bookshops)
An Incomplete Revenge | Jacqueline Winspear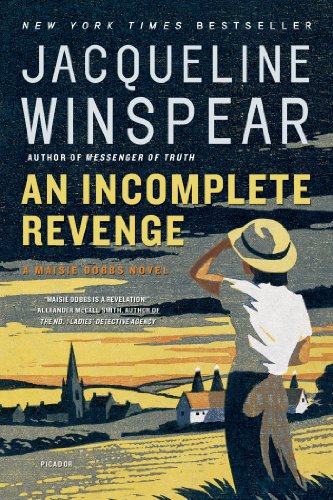 Jacqueline Winspear's popular Maisie Dobbs series is primarily set in London, but a number of books in the series see her spending time in the nearby Kentish countryside. An Incomplete Revenge is one of the first that does, and it begins when she's asked to investigate a possible land purchase.
When her enquiries take her to Kent during hop-picking season, she soon finds evidence that something is amiss. A strange secrecy shrouds the village and its people, and it seems to have links to an old wartime raid.
In later books, a lot of the action takes place at Chelstone Manor, a country estate in Kent. To avoid spoilers, we won't say any more than that.
Get it: Kindle | Audible | Paperback | Bookshop.org (supports independent bookshops)
RELATED: Guide to Jacqueline Winspear's Maisie Dobbs Series
DS Alexandra Cupidi Series | William Shaw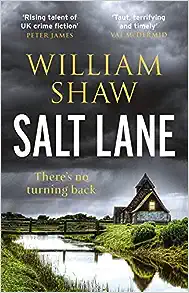 William Shaw's DS Alexandra Cupidi series follows a female detective who's recently transferred from London to the Kentish countryside. After years in an urban environment where her brashness was both typical and effective, she's forced to contend with new colleagues who don't appreciate her ways of doing things.
The first book in the series features a body found floating in Romney Marsh, but later books are spread throughout the county's villages and seaside towns. For those who like birds, it's also worth checking out Shaw's adjacent title, The Birdwatcher, which follows police detective William South, also in Kent.
Start Here: Kindle | Audible | Paperback | Bookshop.org (supports independent bookshops)
Libby Sarjeant Mysteries | Lesley Cookman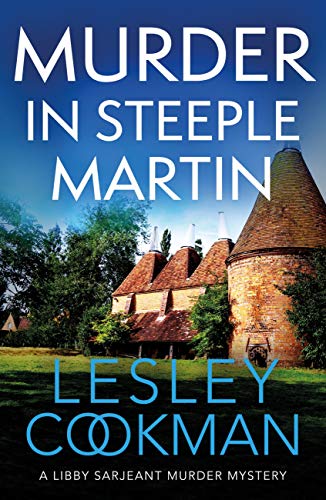 In the lovely English countryside, former actress-turned-artist Libby Sarjeant keeps herself busy with the local theatre…and quite a lot of murder. Though set in the fictional village of Steeple Martin, it's located within the very-much-real county of Kent.
The stories incorporate many aspects of the local culture and landscape (including a theatre set in a former oasthouse), and there are more than 20 books in the series to date. Libby is accompanied in her crime-solving by her psychic friend Fran, a cat, and occasionally, a romantic companion.
Start Here: Kindle | Audiobook | Paperback | Bookshop.org (supports independent bookshops)
RELATED: A Guide to Lesley Cookman's Libby Sarjeant Mysteries
Whistable Pearl Mysteries | Julie Wassmer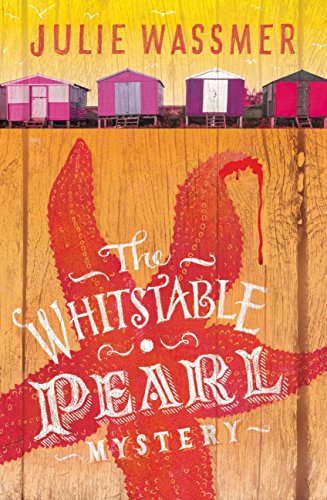 Julie Wassmer's Whitstable Pearl series follows Pearl Nolan, a middle-aged single mum who always wanted to be a detective, but whose life was derailed by an unwanted teenage pregnancy. Now, as her son gets ready to head off to university, she's beginning to shift a bit of focus away from her oyster restaurant to start following her own dream – much to the annoyance of DCI Mike McGuire of the Canterbury city police.
As the name suggests, the series is based in the town of Whitstable. The seaside town is perhaps best known for its oysters, but it's also a popular spot for Londoners to have second homes.
This series has been adapted for TV as an Acorn TV Original, and you can watch it HERE.
Get it: Kindle | Paperback | Audiobook | Bookshop.org (supports independent bookshops)
RELATED: Guide to Julie Wassmer's Whitstable Pearl Novels
Thursday Murder club | Richard Osman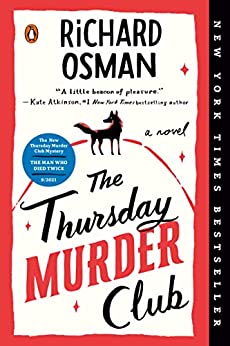 Given its massive success in recent years, we couldn't very well make a list of mysteries set in Kent without mentioning Richard Osman's Thursday Murder Club series. Set in the fictional retirement community of Cooper's Chase, many of the locations in the book are made up – but we know from descriptions that it's roughly in the area of Royal Tunbridge Wells, Wadhurts, and Robertsbridge.
The book follows a group of retirees, each with expertise in different fields, as they investigate cold cases for fun…until it all gets a bit too real. A fourth book is due out in September 2023, and the film rights have been sold to Steven Spielberg's Amblin Entertainment.
Start Here: Kindle | Audiobook | Paperback | Bookshop.org (supports independent bookshops)
RELATED: Charming British Mysteries Similar to Richard Osman's Thursday Murder Club
The Alexandrians | LESLEY COOKMAN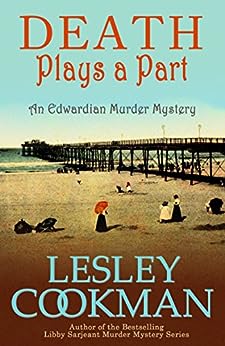 Author Lesley Cookman is the only author to have not one, but two series on this list. Unlike her Libby Sarjeant series, though, The Alexandrians series is set during the Edwardian era.
This set of historical mysteries is based in the seaside town of Nethergate, and it follows Dorinda Alexander, a former governess who now owns a theatre. Unfortunately, her peaceful life seems almost perpetually disrupted by murder and mystery.
Start Here: Kindle | Audible | Paperback | Bookshop.org (supports independent bookshops)
Miss Seeton Mysteries | Heron Carvic, Hampton Charles, & Hamilton Crane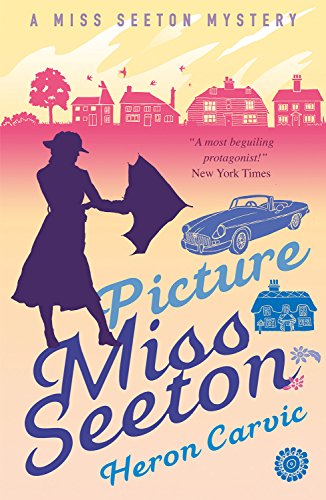 This unusual series of light and comedic mysteries was written by three separate authors, beginning first with five novels by Heron Carvic between 1968 and 1975. He died in 1980, and in 1990, Roy Peter Martin took over under the name of Hampton Charles. He published three more books before Sarah J. Mason took over using the name Hamilton Crane.
Miss Seeton is a retired art teacher who lives in Kent and helps police solve crimes through her unique combination of psychological insight and illustrative sketches. Her inherited cottage is located in the fictional village of Plummergen, and the books tell us that's about 5.5 miles north of Rye (real) and 15 miles west of Ashford (also real). The closest real village using her distances and the description of a rail station would be Appledore.
Get it: Kindle | Audible | Paperback | Bookshop.org (supports independent bookshops)
Save it to Pinterest!