A Look at Anthony Horowitz's Intriguing Adult Mystery Novels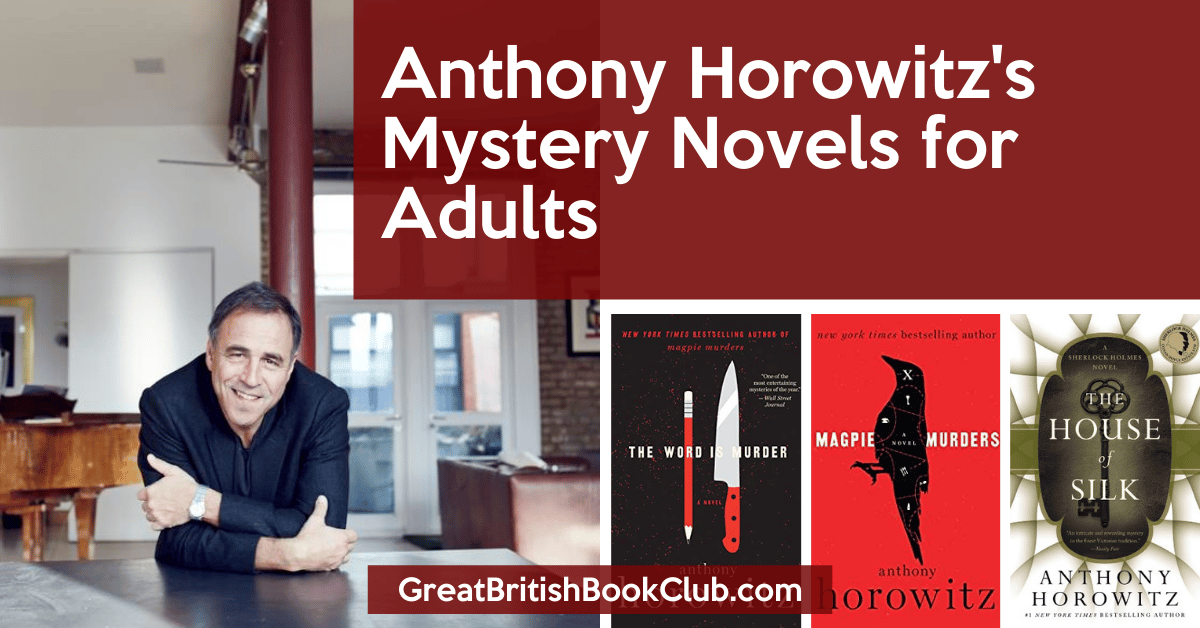 In some cases, we earn commissions from affiliate links in our posts.
Few modern British writers have been as prolific and influential as Anthony Horowitz (image credit: AnthonyHorowitz.com & Jack Lawson). Along with the brilliant period mystery series Foyle's War, he's also responsible for the Alex Rider series, at least a dozen other young adult books, and several more TV shows (including the first handful of episodes of Midsomer Murders).
What a lot of people don't realise, though, is that he somewhat recently turned his talents to adult fiction. Along with writing a couple of James Bond books with permission from the Ian Fleming estate, he's penned a number of mystery/detective fiction novels.
Horowitz's writing style is simple and straightforward, the sort of writing you mostly don't notice. If you like flowery prose full of meandering descriptions, you probably won't like his books – but personally, I love a story that just gets on with things.
For those not familiar with Horowitz's mystery novels for adults, we'll divide them up by series below.
The Daniel Hawthorne Series
This series is my personal favourite of the bunch, so I'm pleased to know Horowitz has stated his intentions to write 10+ novels for the series. The basic premise is particularly interesting, as he's actually a character in his own novel. While that would be insufferably boring coming from many writers, Horowitz seems to have a reasonably interesting life outside the long hours of solitude.
I particularly recommend this series for fans of Foyle's War, as it offers a bit of insight (and some partially-true stories) about the production of later seasons.
The Word is Murder
As The Word is Murder begins, a middle-aged woman visits a funeral parlor to plan her funeral. Just hours later, she's murdered. Shortly after, former police detective Daniel Hawthorne visits Anthony Horowitz with a proposition. "Follow the case and write about it," he implores the author.
Against his better judgment, Horowitz gives in and the two get to work on the case.
Get it: Amazon Kindle | Paperback | Bookshop.org (supports independent bookstores)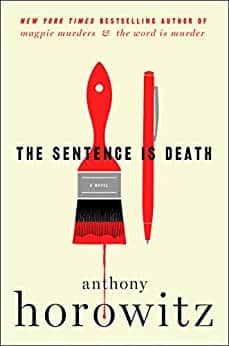 The Sentence is Death
In The Sentence is Death, Hawthorne and Horowitz are together again, this time attempting to solve the murder of a celebrity divorce lawyer. Along with the central mystery, we also see little bits of the "Hawthorne mystery" starting to unfold – though Horowitz has said it will take quite a few books before we really find out what drives the eccentric detective.
Get it: Amazon Kindle | Paperback | Bookshop.org (supports independent bookshops)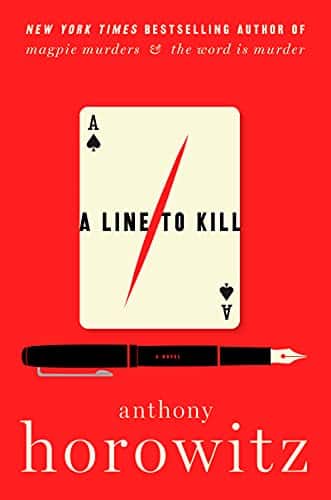 A Line to Kill
A Line to Kill finds Hawthorne and Horowitz at a literary festival on Alderney, an island off the south coast of England. Given the idyllic setting, the last thing they expect is to find themselves in the middle of a murder mystery. However, that's exactly what happens when a local grandee is found dead under mysterious circumstances.
Get it: Amazon Kindle | Paperback | Audible | Bookshop.org (supports independent bookshops)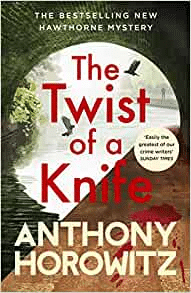 The Twist of a Knife
In the fourth Hawthorne and Horowitz novel (available at varying dates in autumn 2022 depending on your country), Anthony Horowitz is happily preparing to see the opening night performance of one of his plays in a London theatre. Unfortunately, the play gets a savage early review from notorious critic Harriet Throsby…and scarcely any time passes before the police come for Anthony himself.
It becomes clear that someone has tried to make it look like Anthony is the killer – and as much as he hates to admit it, he soon realises only one man can clear his name. Hawthorne.
Get it: Amazon Kindle | Hardcover | Audible | Bookshop.org (supports independent bookshops)
The Susan Ryeland Mysteries
This "series" wasn't originally intended to be a series (for reasons that seem pretty clear if you've read the first one). The first novel was so successful, however, that the publishers wanted more.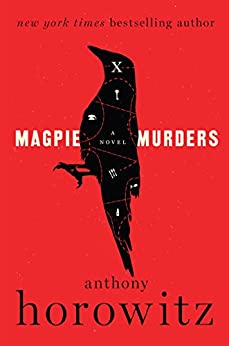 Magpie Murders
Magpie Murders is a murder within a murder. The story opens with editor Susan Ryeland as she's preparing to read a new book by one of her authors. It then proceeds to dive straight into that book, telling a classic sort of story about murder in an English village. Ryeland is convinced there's something more to the manuscript, and that's what sets off the larger investigation in the book.
This film has now been adapted for television, and though it's already premiered in the UK, American fans can look forward to it on PBS Masterpiece beginning October 16th, 2022.
Get it: Amazon Kindle | Paperback | Bookshop.org (supports independent bookshops)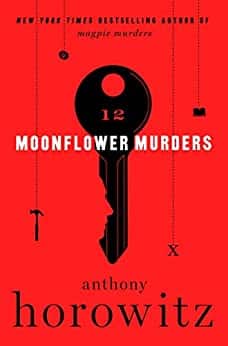 Moonflower Murders
In Moonflower Murders, publisher Susan Ryeland is retired and living the good life running a small hotel in Greece. Everything is pleasantly boring until the Trehearnes come to stay. They share the story of a murder that took place on the Suffolk coast, and Ryeland instantly recognises the story from one of the Atticus Pund novels she used to edit.
Get it: Amazon Kindle | Paperback | Bookshop.org (supports independent bookshops)
Anthony Horowitz Writes Sherlock Holmes
A few years back, the Arthur Conan Doyle Estate authorised a new Sherlock Holmes novel by Anthony Horowitz (followed soon after by another). The novels are true to Doyle's tone and set within the original world of the detective – but they explore areas that were given less attention in the original stories.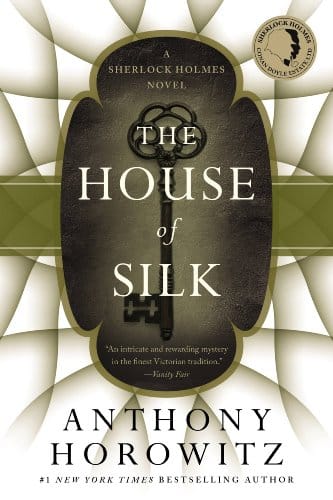 The House of Silk
Set in 1890 London, this novel sees Holmes and Watson drawn into an international conspiracy involving a mysterious entity called "The House of Silk". They investigate on behalf of a fine art dealer named Edmund Carstairs who's being menaced by a strange man in a flat cap.
Get it: Amazon Kindle | Paperback | Bookshop.org (supports independent bookshops)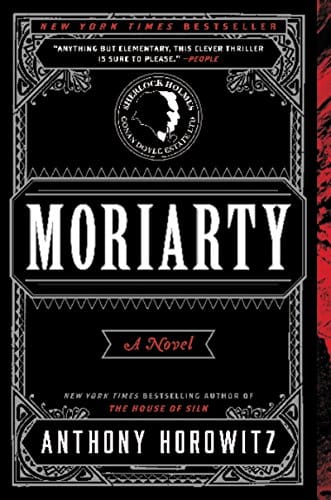 Moriarty
In Moriarty, we find out what really happened when Sherlock Holmes and Moriarty tumbled to their deaths at Reichenbach Falls. It's a particularly interesting look at the death that Arthur Conan Doyle would eventually "overturn" due to popular demand for his Sherlock Holmes stories.
Get it: Amazon Kindle | Paperback | Bookshop.org (supports independent bookshops)
What's Next for Anthony Horowitz?
If you're a fan of his work, you'll be pleased to know more Daniel Hawthorne bookso are on the way. We've still not heard whether there will be more of the Susan Ryeland books or TV episodes, but we'll update this when we know more.
If you enjoy spy novels and TV shows, you'll also want to check out the Alex Rider series that's heading into its third season on Amazon's Freevee "free with ads" TV service. Though it's clearly based on work for kids and teens, the TV series is well-done and enjoyable for adults, too. The only thing that was really irritating is that there was no option to purchase it and skip commercials. Nothing spoils the mood more than American TV adverts in the middle of a British show.
You may find it interesting to know that Horowitz has mentioned many times that he writes down the ending to his novels before he finishes them. That way, the publisher will know how the book should end in case he dies before it's done. All we can say about that is that we hope it's never needed.
Save it to Pinterest!