Emma Jameson's Dr. Benjamin Bones Magic of Cornwall Books in Order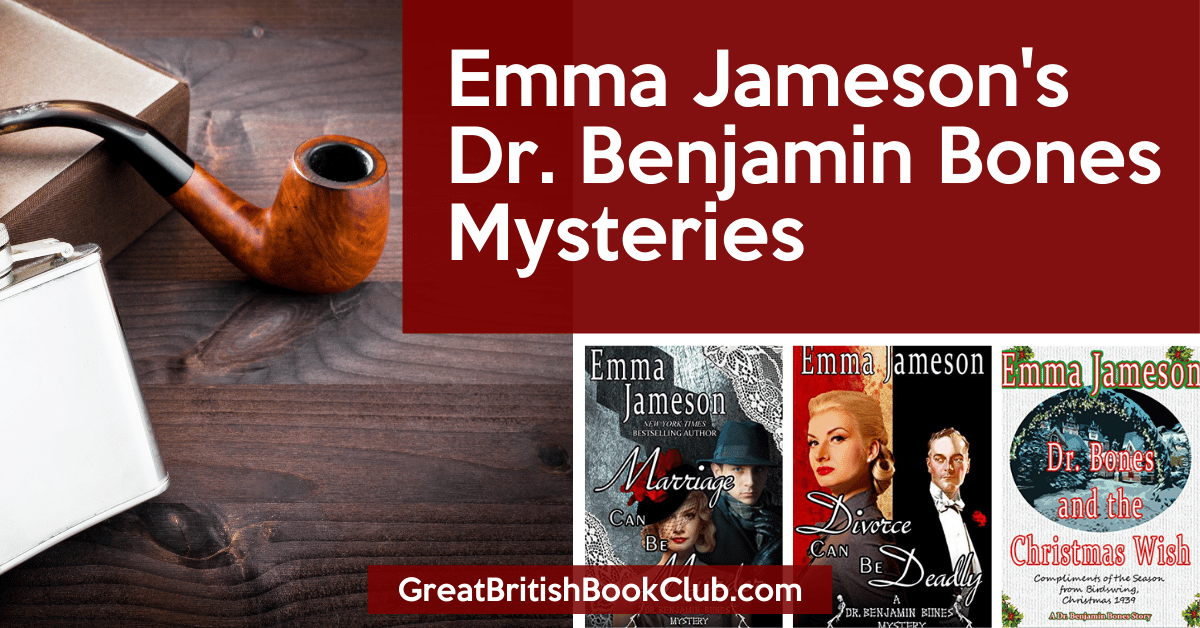 In some cases, we earn commissions from affiliate links in our posts.
Many fans of British mysteries will know Emma Jameson's Lord & Lady Hetheridge mystery series, but her Dr. Benjamin Bones mysteries are likely to be less familiar. The first book was published back in 2014, and while it's been a few years since the last entry in the series, her website indicates that future entries will be coming when time permits.
ALL OF Emma Jameson's Dr. Benjamin Bones BOOKS IN ORDER
To date, there are four books in the Dr. Benjamin Bones / Magic of Cornwall series. The first two are full-length novels, while the third and fourth entries are novellas.
If you finish this series and find yourself wanting more from Emma Jameson, you can check out her other series HERE.
BOOK 1: Marriage Can Be Murder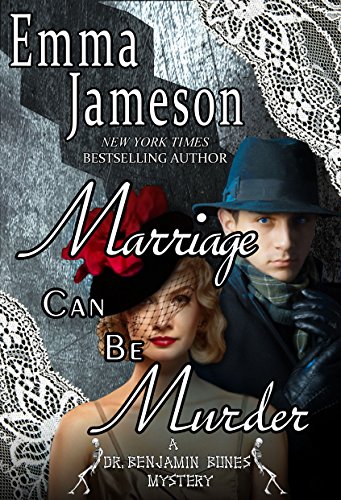 On the even of World War II, Dr. Benjamin Bones has opted to serve his country on English soil. Giving up his posh London practice, he's headed to the tiny Cornish village of Birdswing. In a last attempt to save their marriage, his unfaithful wife Penny will be accompanying him on the move.
Unfortunately, they've only just arrived when Penny is run down in the street, with Ben himself nearly killed. Though it initially looks like an accident, it's not long before Ben deduces it was murder. But why? Who would want to kill the new arrivals?
As he attempts to recuperate and solve the mystery of his wife's murder, Ben will also be settling down into WWII-era Britain – a land characterised by rationing, victory gardens, coastal defense, and bomb shelters.
Get it: Kindle | Audible | Paperback | Bookshop.org (supports independent bookstores)
BOOK 2: Divorce Can Be Deadly
Book two in the series brings us to the bitterly cold winter of 1939, as the situation in Europe continues to grow worse. Lady Juliet is taking a correspondence course in private detective, and her peaceful existence is disrupted by the return of her soon-to-be-ex-husband. At the same time, Ben's obsession with the Fenton House ghost is growing stronger, as are Lady Juliet's feelings for Ben.
When a bloodless, half-naked corpse is found in a nearby village, Ben and Lucy will work together to solve the case.
Get it: Kindle | Audible | Paperback | Bookshop.org (supports independent bookstores)
BOOK 3: Dr. Bones & the Christmas Wish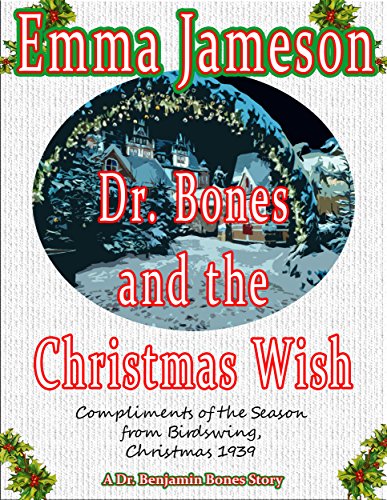 As Christmas of 1939 approaches, Dr. Benjamin Bones is feeling like a bit of a Scrooge. It's cold, there's a war on, and his love life leaves much to be desired. When Ben makes a bargain with an elfin man, however, things begin to turn around.
This novella follows almost immediately after book #2, and this is a series that's best read in order.
Get it: Kindle | Audible | Paperback | Bookshop.org (supports independent bookstores)
BOOK 4: Dr. Bones & the Lost Love Letter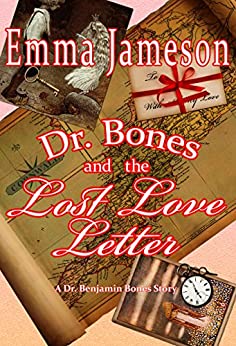 It's February of 1940, and Ben's fellow villagers are on edge, waiting for Hitler to make his move. Everywhere you look, someone's spying out a window or gossiping over the garden fence. People want information, and they want distractions.
When Ben and Juliet happen upon a seemingly trivial case – that of a long-lost letter – they jump at the chance for a distraction. In the end, though, the letter may be life-changing. When they attempt to deliver the letter, they find two lonely people who might just be getting a second chance at love.
Get it: Kindle | Audible | Paperback | Bookshop.org (supports independent bookstores)
Have You Read the Dr. Benjamin Bones Books?
If you're a fan of WW2-era period shows like Foyle's War or books like Maisie Dobbs and Miss Marple, this is definitely a series to check out. Have you read it? Let us know your thoughts in the comments!
Save it to Pinterest!