All of M.C. Beaton's Agatha Raisin Books in Order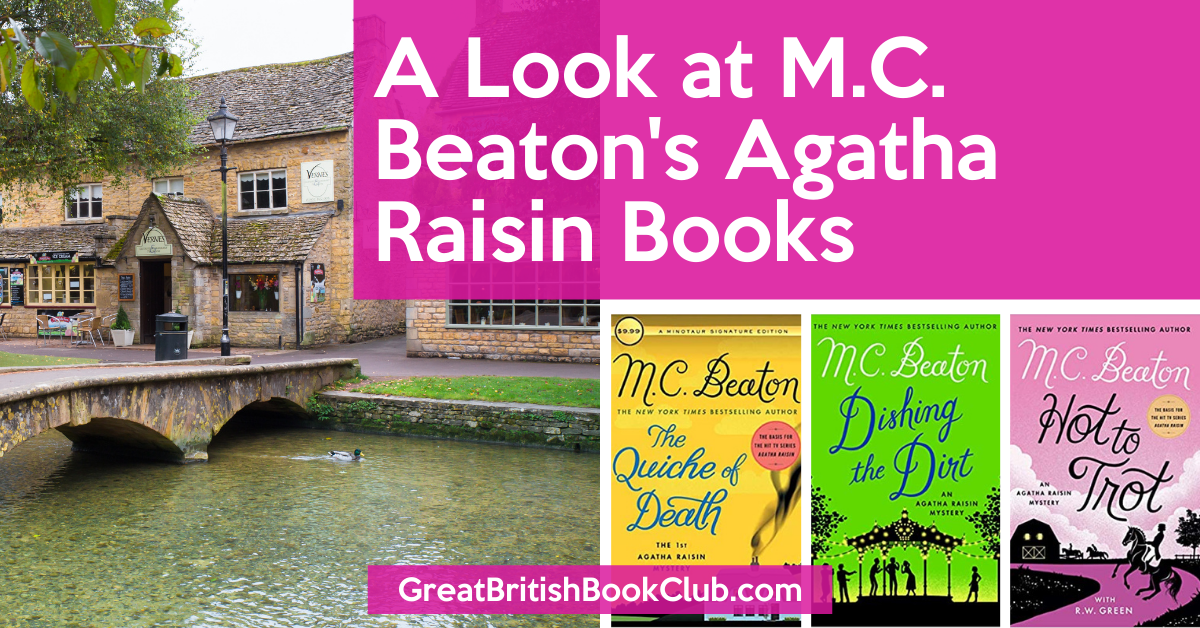 In some cases, we earn commissions from affiliate links in our posts.
Whether you're a long-time reader or you've only recently discovered M.C. Beaton's delightful Agatha Raisin series of cosy mysteries, it can be a bit of a nuisance to keep track of the series order. There are, after all, 32 books in the Agatha Raisin series (with #33 coming in December 2022).
In this post, we'll take a look at all the Agatha Raisin books in order so you can make sure you've read them all – but we'll also tell you where you can enjoy Ms. Raisin in other forms. In case you didn't already know, there's also a TV adaptation and a delightful radio series (not to mention some shorter works).
What are the Agatha Raisin Books About?
The Agatha Raisin series follows the adventures of London PR-executive turned Cotswolds-based retiree Agatha as she tries to build a life in a small village where nobody pays too much attention to her wealth and success. She quickly learns she's in a place where 30-year residents are considered "newcomers", and pushiness isn't always rewarded. To thrive in her new surroundings, she'll have to learn to play nice. Or nicer, at least.
The Agatha Raisin series is a true cosy mystery with all the major components – a small village, a female amateur sleuth, and local police who don't always welcome her snooping. There's no overt sex or violence, and murders generally take place "off-screen" (although there are some close brushes with death, as one might expect of a cosy series).
Rest in Peace, Marion
Sadly, M.C. Beaton (aka Marion Chesney) passed away in 2020 at the age of 83. During her lifetime, the prolific Scottish author completed more than 160 different novels under a variety of pen names, and she was regularly named the "most borrowed" author from UK libraries.
Before her death, Ms. Beaton passed the torch on to a new author, Rod Green, who finished his first Agatha Raisin novel, Hot to Trot, with her approval in 2020 (#31 in the series). Rod is the husband of Beaton's publisher Krystyna Green, and after 20 years as acquaintances, he stepped in to help Beaton when she fell ill.
He told The Sunday Post:
Marion had lots of ideas, but she was not well enough to sit in front of a computer all day. She wanted somebody she could trust and we thought I could be of some help. I thought that would essentially mean taking some dictation but it turned out that she wanted me to be more involved than that…She wanted to discuss the scenes and plots and what would be happening to the characters. My job was to flesh out the plots we discussed, and chip in a few ideas.
In addition to the Agatha Raisin series, Green is also working on the next entry in Beaton's Hamish Macbeth series. Given that Ms. Beaton herself was pleased with his work on Hot to Trot, it's nice to know the stories will live on.
Long-time fans may note that Agatha's romantic life feels a bit "off" in the first two books by Green, and that she doesn't always have that "real woman" feel – but with luck and good fan feedback, we're hoping things will eventually feel more normal again. It's hard to take on a long-time series like that, even moreso for a man who might not have the same kind of first-hand experiences at being a middle-aged woman.
For us, we'd rather have SOME Agatha than none at all – so we're happy to give him a bit of leeway as he tries to fill Beaton's very big writing shoes.
All of M.C. Beaton's Agatha Raisin Books in Order (+ Three from Rod Green)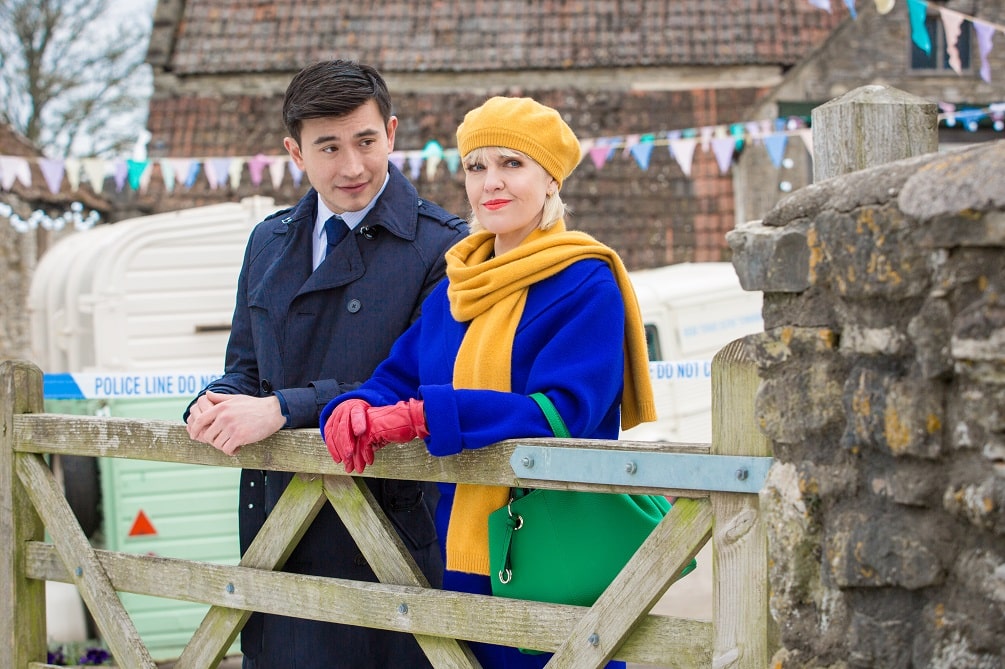 Below, we've listed all the current Agatha Raisin mystery novels in order.
Alongside the titles, you'll notice that some have a series number. Those numbers refer to the Agatha Raisin television series by Acorn TV. You can watch the series HERE.
Fair warning to those who've read the Agatha Raisin books and not yet seen the television series – Agatha is quite a bit different from how she's described in the books. The blonde Scottish actress Ashley Jensen portrays her, and while she does an excellent job (Ms. Beaton herself gave the thumbs up), you do have to let go of the books a bit to really enjoy it.
As the TV series recently released an episode for "Love, Lies, & Liquor", it's also interesting to note that star Ashley Jensen appeared in another British TV show with a similar title: Love, Lies, & Records. In it, she stars as a registrar who tries to balance a busy work life with a complicated home life.
At this point, all the books are also available as audiobooks, with most of them read by Dame Penelope Keith.
Other Agatha Raisin Works
In addition to the 33 Agatha Raisin books above, there are also a couple of novellas.
There's also a BBC Radio 4 collection of full-cast radio dramas with the following stories:
Agatha Raisin & the Quiche of Death
Agatha Raisin & the Curious Curate
Agatha Raisin & the Walkers of Dembley
Agatha Raisin & the Fairies of Fryfam
Agatha Raisin & the Terrible Tourist
Agatha Raisin & the Potted Gardener
Agatha Raisin & the Vicious Vet
Agatha Raisin & the Buried Treasure
Agatha Raisin & the Wizard of Evesham
Agatha Raisin & the Murderous Marriage
You can buy the 10-CD collection HERE, or get the audiobook version from Audible HERE. In this version, Penelope Keith (of To the Manor Born and The Good Life/Good Neighbors) plays the role of Agatha Raisin.
What's Your Favourite Agatha Raisin Book or Adaptation?
If you've already read some of the books, do share – what's your favourite book or adaptation from the series? For us, it's Penelope Keith's portrayal in the radio versions. Aside from just loving everything Penelope Keith does, the radio adaptations are faithful to the books, and they let us fill in the blanks with imagination.
That said, we still devour the TV series with every new release. They don't quite capture the feel of the books (especially the ones written by Beaton herself), but they're still fun to watch.