The Blindness of Odile: A Journey of Discovery in 1970s Cambridge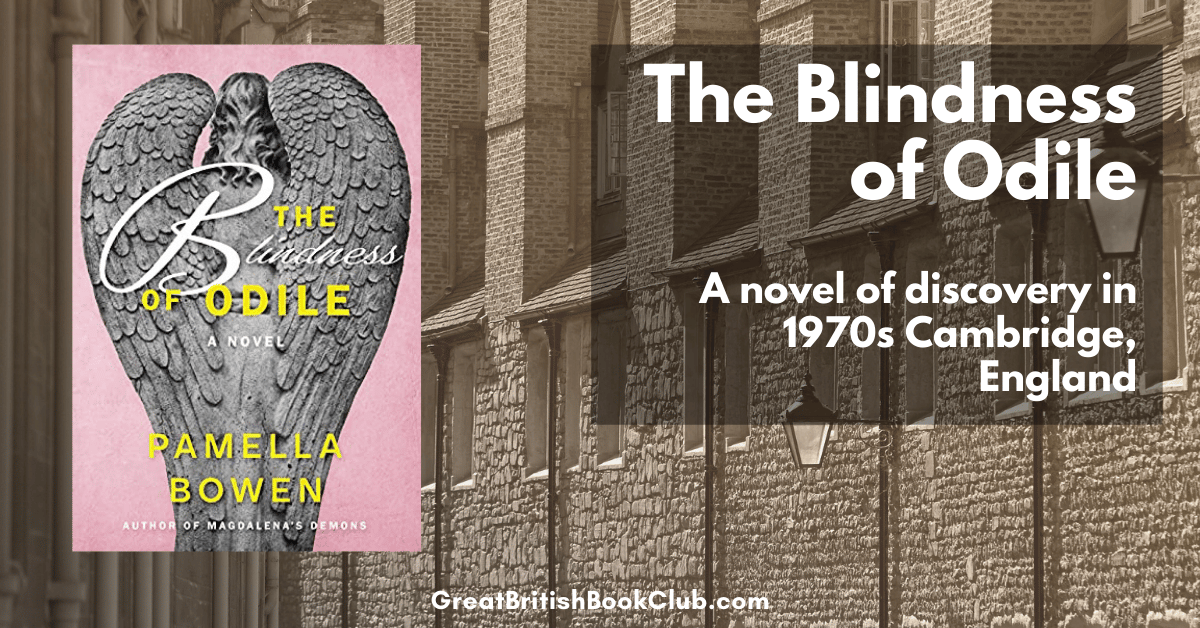 In some cases, we earn commissions from affiliate links in our posts.
One of our goals at here is to spotlight the (relevant) works of writers in the IHeartBritishTV / IHeartBritain / Great British Book Club community (to the extent that time permits, of course). Recently, we featured the mysteries of Emma Jameson. Today, we'd like to feature a novel from California-based author Pamella Bowen.
The Blindness of Odile
The Blindness of Odile follows a young American woman who crosses the pond to study at Cambridge University. She's immediately taken aback by the surprising number of cultural differences, and her pride leads her into some awkward and embarrassing situations.
Luckily, a group of misfits take it upon themselves to help her, the clueless American, ultimately guiding her towards a complete transformation. These companions include a sweet-toothed nun, a ginger bartender, and a grumpy friar.
Get the book: Amazon Kindle | Amazon Paperback | Bookshop.org (supports independent bookshops)
The Setting: Cambridge, England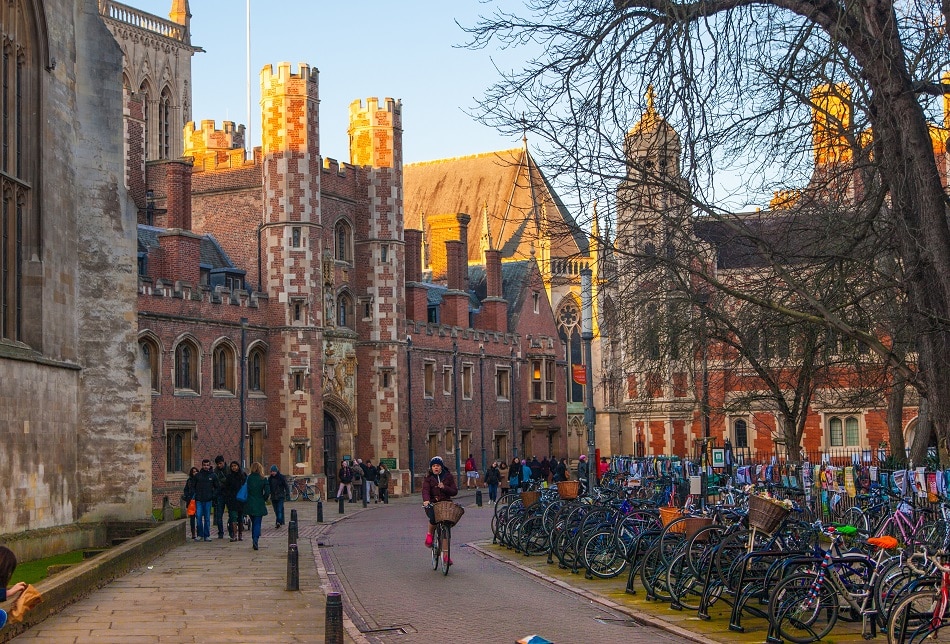 For those not familiar with Cambridge, it's a university city in the county of Cambridgeshire in England. Set along the River Cam, it's roughly 55 miles north of London, with a population of around 160,000.
Perhaps most importantly, Cambridge is home to Cambridge University, one of the world's oldest and most prestigious institutions of learning. Notable alumni and instructors/lecturers include Charles Darwin, Francis Crick, James Watson, Dame Jane Goodall, Sir David Attenborough, J. Robert Oppenheimer, Christopher Marlowe, Michael Crichton, Ben Miller, Julian Fellowes, Edmund Spenser, John Donne, John Milton, Thomas Gray, William Wordsworth, Samuel Taylor Coleridge, Stephen Hawking, Lord Byron, Sylvia Plath, Sir Ian McKellen, Stephen Fry, Emma Thompson, Sir Derek Jacobi, Miriam Margolyes, Hugh Laurie, John Cleese, Richard Ayoade, Sacha Baron Cohen, Bill Oddie, Freddie Highmore, Sue Perkins, Mel Giedroyc, David Mitchell, Robert Webb, Rachel Weisz, and Tilda Swinton.
Aside from being home to one of the world's greatest universities, Cambridge is just a lovely place to be. Want to have a virtual wander around? You can do so by clicking HERE to visit Google StreetView. It works best on a laptop or desktop computer, but it does work relatively well on phones and tablets.
Who Should Check Out The Blindness of Odile?
Fans of Endeavour will surely enjoy this look at early 1970s England from a female perspective. Though the book is not a mystery, it does take place in England's other great university city (Cambridge), so there's a bit of that "deeply intellectual city" vibe in the book.
Anglophiles who enjoy learning about British word choice differences (elevator vs. lift, cookies vs. biscuit, candy vs. sweets, etc.) and moments of culture shock will also enjoy the fish-out-of-water aspect of the story. Nearly every American who's visited the UK has shared at least a couple of those experiences.
The book is also great for those who enjoy coming-of-age or personal discovery stories, as the book sees a young woman leaving home and making her way in a new and unfamiliar place. She's forced to confront her pride and desire to look worldly in a place that often leaves her puzzled.
I should also add that The Blindness of Odile contains substantial Christian content, so if you don't care for books with religious elements, you'll want to pass on this one. If you don't mind that, though, it's a lovely read for any Anglophile – especially those who first ventured over in the 1960s or 70s.