How the English Town of Whitby Inspired Bram Stoker's Dracula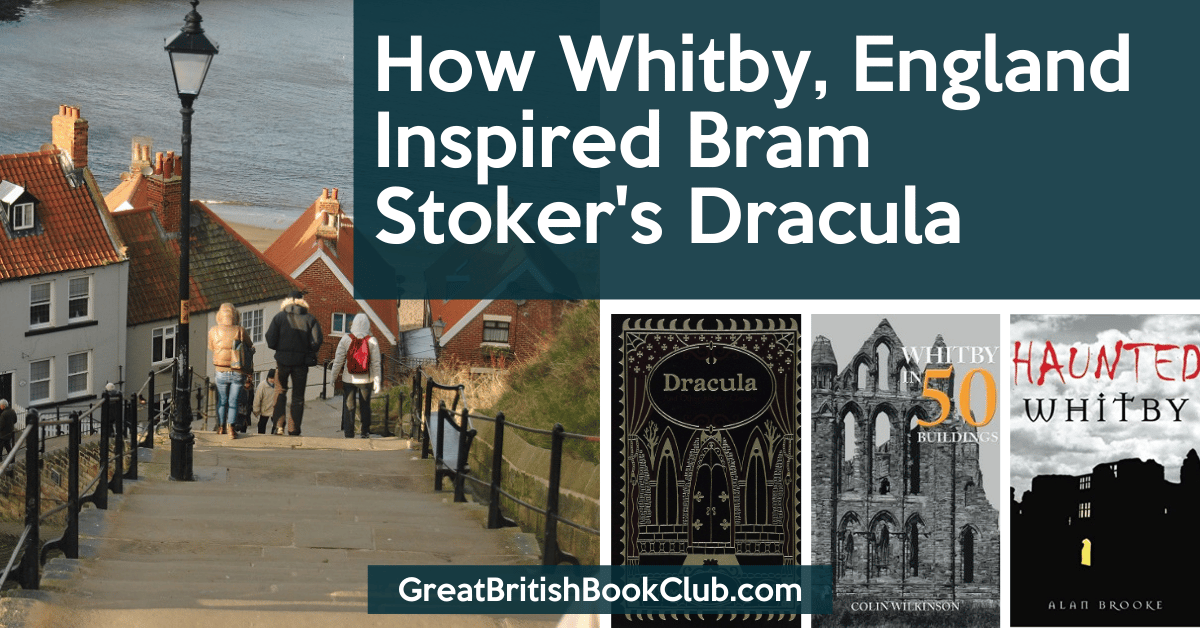 In some cases, we earn commissions from affiliate links in our posts.
Even in very well-read circles, it's not uncommon to find people who don't realise that Bram Stoker's Dracula has origins in England. After all – the very word "Dracula" conjures up images of cold and forbidding castles in the hills of Romania.
Given that this is a site frequented by a great many Anglophiles, I'm guessing it's reasonably common knowledge around here – but for those who don't know about Dracula's partially-British roots, we figured it would be a fun topic to dive into.
First, we'll take a look at the town of Whitby and how it factored into Dracula's creation – followed by a look at some books that may be of interest to fans of either Dracula or the area.
Bram Stoker Visits Whitby, England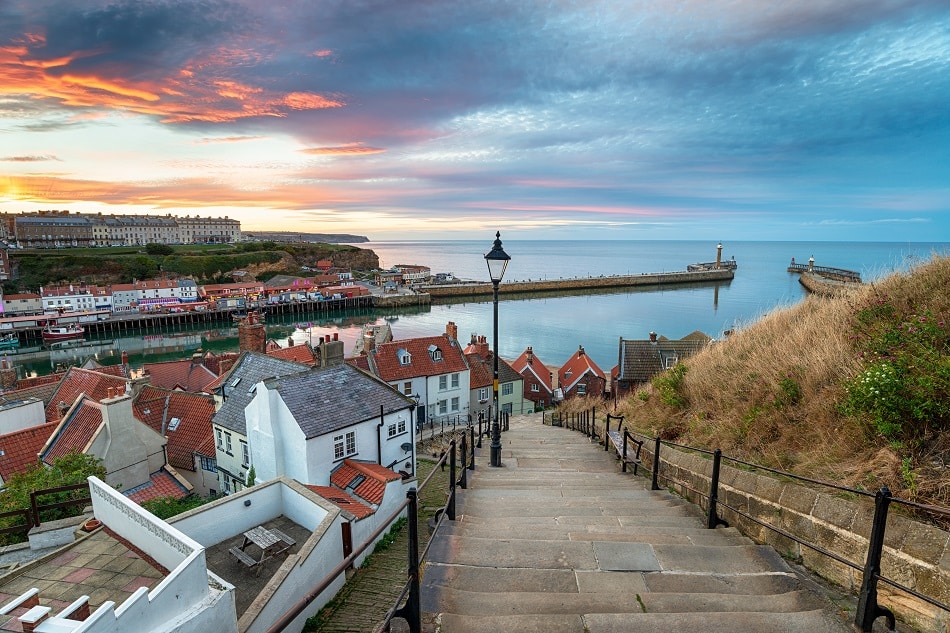 Whitby is a lovely seaside town in North Yorkshire, and it's where Irishman Bram Stoker arrived in July of 1890 after a lengthy tour of Scotland. He was working as the business manager for actor Henry Irving, who recommended he visit the area. Prior to his stay in Whitby, Stoker had been working on a novel set in Austria with a protagonist named Count Wampyr.
While in Whitby, Stoker stayed at the guesthouse of Mrs. Emma Veazey at 6 Royal Crescent. Today, both Stoker and Mrs. Veazey are long gone, but a small plaque remains to commemorate his stay. If you have the budget and the inclination, you can actually stay in a flat at the address via Bram's View Apartment in Whitby.
Stoker spent a week alone in Whitby before being joined by his wife and son. That week proved invaluable for his creative endeavours, allowing him plenty of time and mental space to roam the town and think about things. Some mornings were spent in the reading room of the Royal Hotel (another Stoker location you can stay at).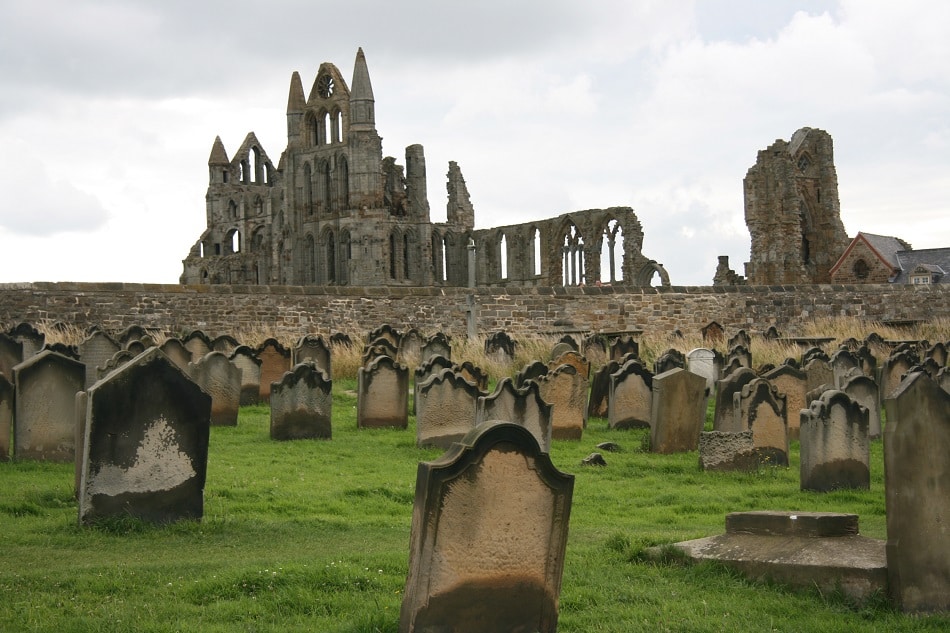 When the weather was good, he roamed the graveyard at St. Mary's Church and explored the abbey ruins on the East Cliff. As with JK Rowling and some of the tombstones in Edinburgh, Stoker grabbed a number of names from the church's graveyard. Braithwaite Lowery, Andrew Woodhouse, John Paxton, and seaman Swales live on in his novel.
The medieval Whitby Abbey was once a Benedictine monastery, founded in the 11th century on the ruins of an earlier monastery founded by the Anglian princess Hild. It's noted in Stoker's novel through a diary entry by his main character Mina Murray.
Right over the town is the ruin of Whitby Abbey, which was sacked by the Danes, and which is the scene of part of "Marmion," where the girl was built up in the wall. It is a most noble ruin, of immense size, and full of beautiful and romantic bits; there is a legend that a white lady is seen in one of the windows. Between it and the town there is another church, the parish one, round which is a big graveyard, all full of tombstones. This is to my mind the nicest spot in Whitby, for it lies right over the town, and has a full view of the harbour and all up the bay to where the headland called Kettleness stretches out into the sea. It descends so steeply over the harbour that part of the bank has fallen away, and some of the graves have been destroyed.

In one place part of the stonework of the graves stretches out over the sandy pathway far below. There are walks, with seats beside them, through the churchyard; and people go and sit there all day long looking at the beautiful view and enjoying the breeze. I shall come and sit here very often myself and work. Indeed, I am writing now, with my book on my knee, and listening to the talk of three old men who are sitting beside me. They seem to do nothing all day but sit up here and talk.
On the 8th of August, Stoker would visit the local library. It's there that he found an 1820 book, William Wilkinson's An Account of the Principalities of Wallachia and Moldavia (modern-day Romania). A footnote in the book read, "DRACULA in Wallachian language means DEVIL."
While there's plenty of debate about whether Vlad "The Impaler" Tepes factored into the story, we do know that the aforementioned book is where Stoker got the name for his iconic character.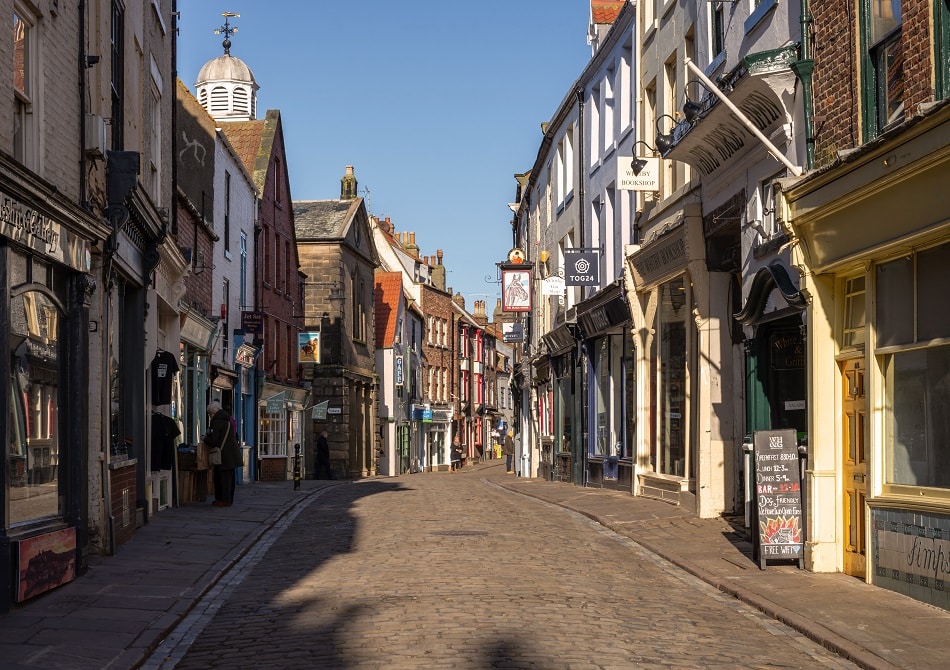 We also know that Stoker heard about a shipwreck that had occurred five years earlier at Whitby. It was a Russian vessel, the Dmitry, carrying a load of silver sand from Narva. In the novel, there would be a ship called the Demeter from Varna, a vessel that brought crates of earth (with a side of Dracula) to Whitby.
Another Whitby connection that's easy to spot is the address of Count Dracula's solicitor, 7 Royal Crescent (or rather, "7 The Crescent, Whitby" in the novel). It's next door to the guesthouse Stoker stayed in.
Dracula, the Novel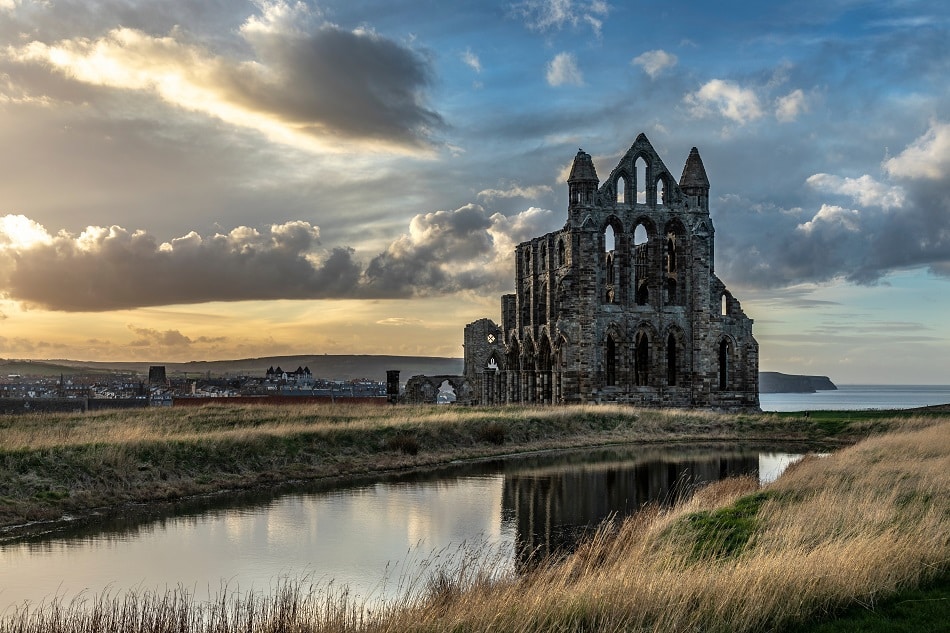 Prior to its publication as a novel, Dracula had a less-than-promising start as a stage play called The Undead. Stoker had hoped Henry Irving (his actor client) would take the lead role, but after a single test performance, he wanted nothing more to do with it.
Not to be defeated, Stoker redrafted the piece as a novel told in the form of letters, diaries, newspaper clippings, and ship log entries. It would be published in 1897.
The story begins by using the ship's log to chart the gradual disappearance of the entire crew while heading to Whitby. At last, only the captain is left, and he's tied to the wheel when the ship runs aground near East Cliff on the 8th of August (the same day Stoker had discovered the name "Dracula" in the Whitby library).
A large dog is seen dashing from the wreckage and bounding up the 199 steps to the church…and we all know how that plays out.
Dracula Activities in Whitby
Should you ever find yourself in Whitby, there's no shortage of activities related to the famous novel.
The Dracula Experience
This immersive attraction puts you inside the Dracula story using animated scenes, special effects, and live actors. They also offer "paranormal nights" for those who want to explore the possibility of ghostly presences in the area.
Whitby Goth Weekend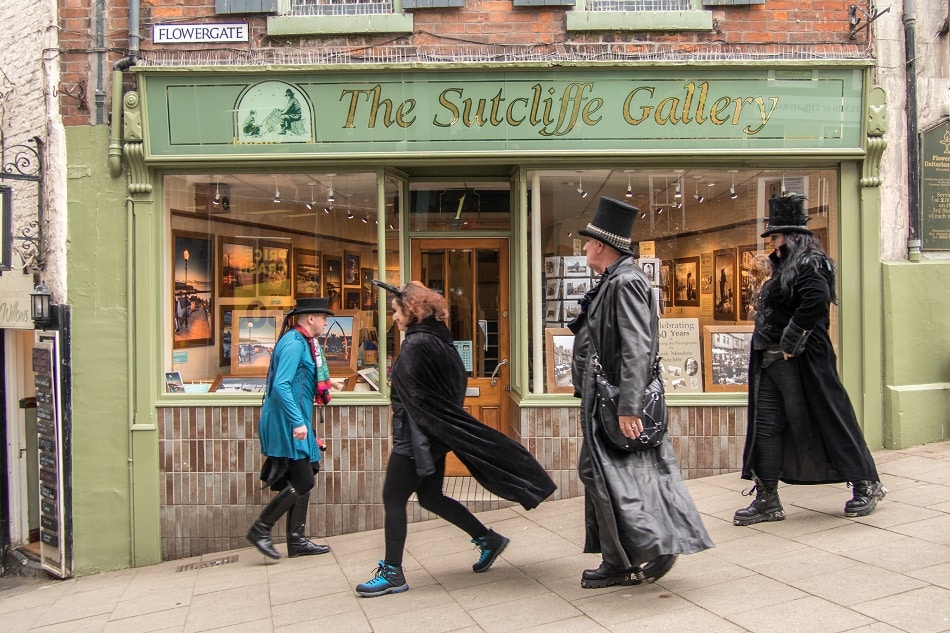 Twice each year, goths and goth-watchers gather in the town of Whitby for a weekend of alternative fun. There's food, drinking, costumes, and plenty of shopping at the Bizarre Bazaar Alternative Market. Sadly, the pandemic has prevented them from hosting their usual events this year, but assuming things are better, they'll be back in 2021.
Perhaps my favourite thing about the Whitby Goth Weekend is that they've made room for the fundraising efforts of the Tolga Bat Hospital and the Bat Conservation Trust. Bats are super cute and vital to our ecosystem, but they're also perfect for a goth weekend in the town that inspired Dracula!
Whitby Walks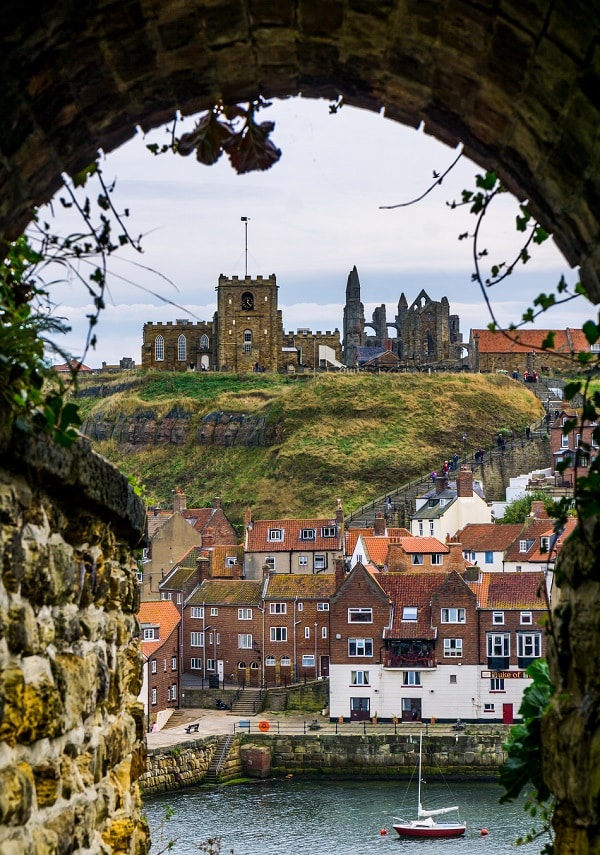 If you're able-bodied and up for a bit of walking, you can join Dr. Crank on any of three walks in the town. They are: "Ghost Walk", "In Search of Dracula", and "Heritage and History", and any one of them will give you a deeper experience of the town than you might otherwise get on your own.
The Bram Stoker Fan's Dracula Reading List
Below, we take a look at some of the essential reading for any serious Dracula fan – along with a few books for those who might like to travel to the town of Whitby.
Dracula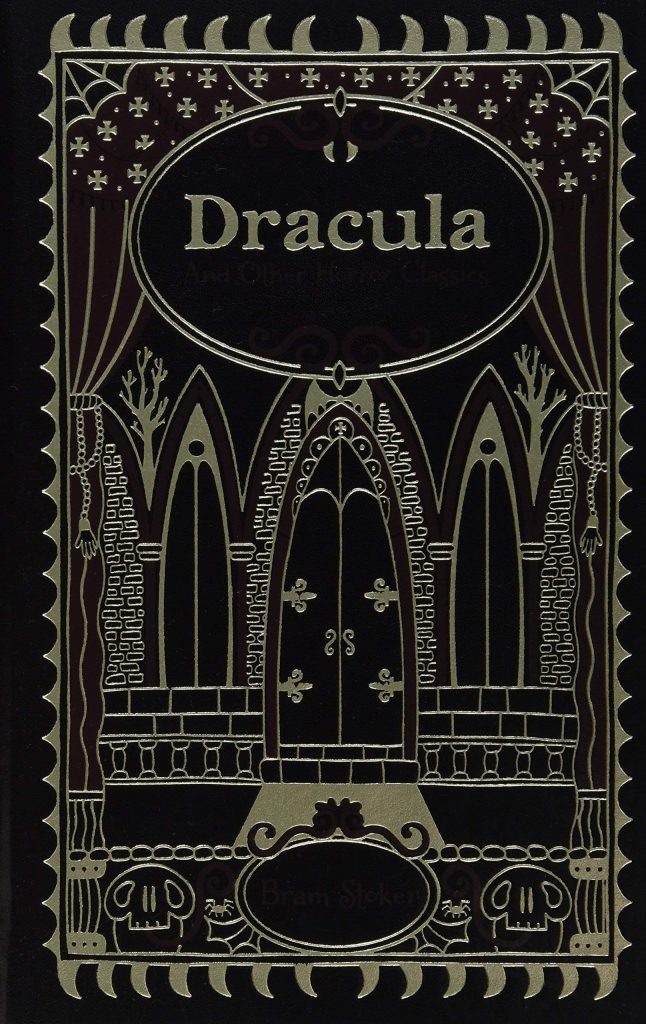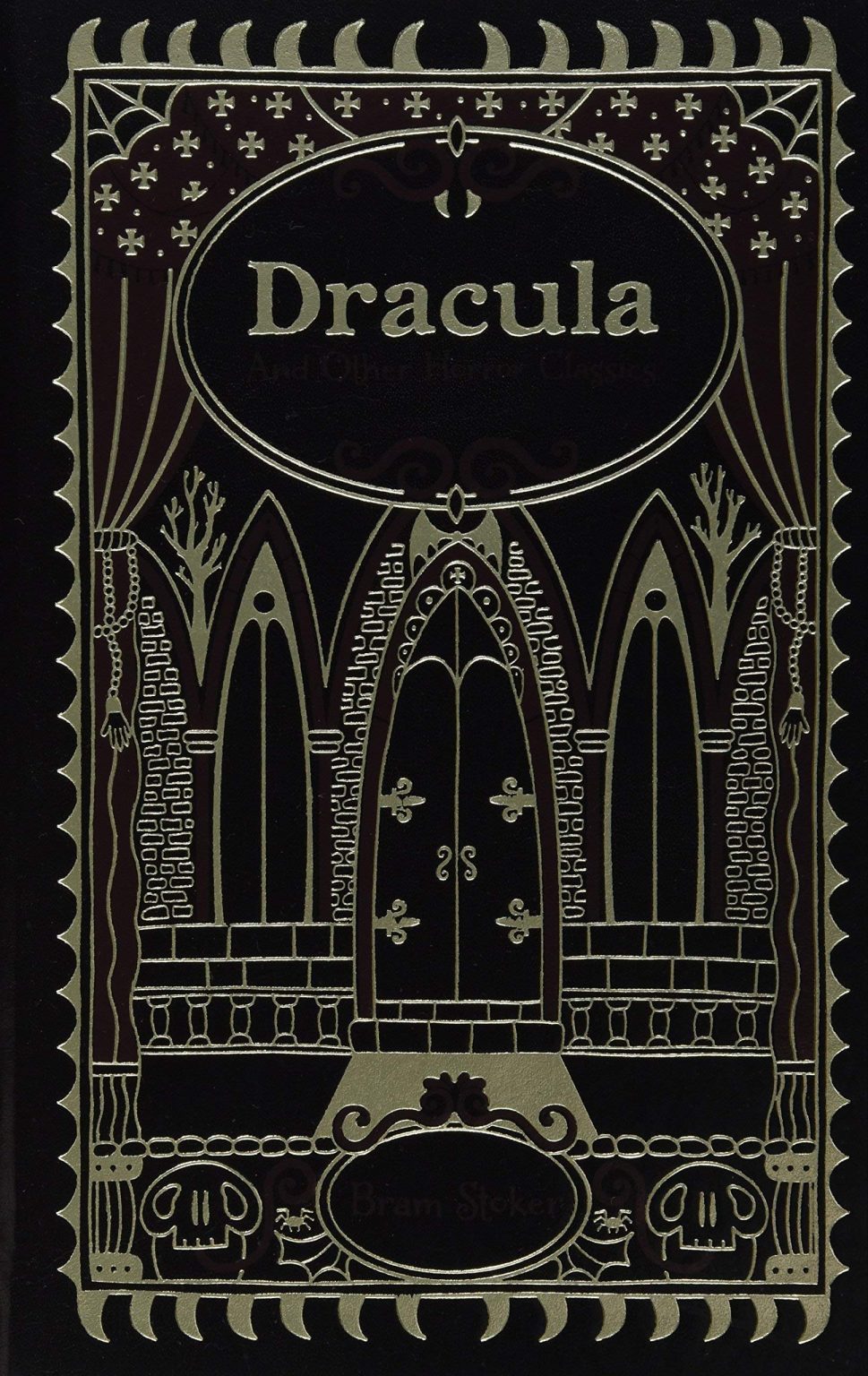 The most obvious place to start is with Stoker's original work. Dracula is one of the most successful epistolary novels (a novel told via letters) ever written, and because it's no longer under copyright, you can read it for free on Project Gutenberg – though if you're a fan, you may wish to get a nice collector's edition instead.
Get it: Project Gutenberg | Amazon (leather-bound) | Amazon (bargain edition) | Bookshop.org (support independent bookshops)
Bram Stoker's Dracula: A Reader's Guide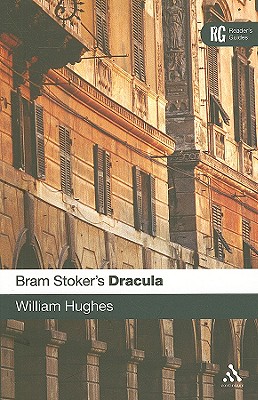 For those who enjoy a bit of historical context with their reading, this guide makes the perfect companion to the original Dracula novel. It was written by William Hughes, Professor of Gothic Studies at Bath Spa University in England, and he's a well-respected expert on both Stoker and Gothic Studies in general.
Get it: Amazon | Bookshop.org (support independent bookshops)
Dracula, the Graphic Novel: Original Text
Whether you prefer pictures with your stories or you'd just like to see a classic presented in an alternate way, this illustrated edition offers a fun alternative to the classic text. It uses the original text and dialogue, only moderately abridged to fit the graphic novel format.
Get it: Amazon | Bookshop.org (support independent bookstores)
There's also a Mike Mignola (Hellboy) edition with a similar concept – and outstanding illustrations. You can view it HERE.
Whitby in 50 Buildings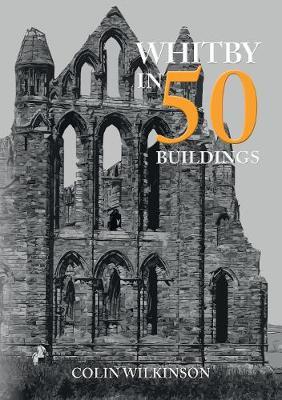 This upcoming book walks you through the history of Whitby in 50 of its buildings. Though modern Whitby is often associated with chip shops, seaside holidays, and Bram Stoker (including the Goth Weekend), it's a city with a rich seafaring history. Captain Cook made his home there, and you can see a replica of his ship, the HMS Endeavour (Inspector Morse fans will know that's where he got his name).
Get it: Amazon | Bookstore.org (support independent bookshops)
Haunted Whitby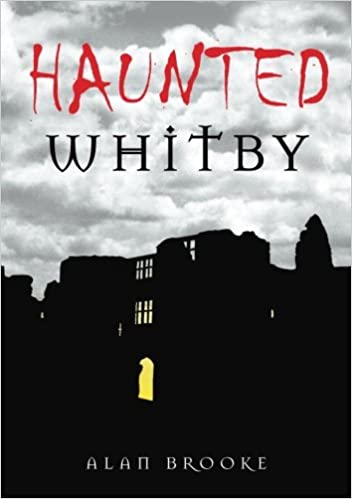 Virtually every town or city in the UK has it's fair share of ghost stories, and Whitby is no exception. From the old abbey to its seafaring history, this book offers a fascinating spooky history of the town.
Get it: Amazon | Bookshop.org (support independent bookstores)
Murder at Whitby Abbey
While not specifically about Whitby or Dracula, this Cassandra Clark period mystery gives you another way to immerse yourself in the lovely North Yorkshire town – this time, in the 1300s. Hildegard of Meaux is sent on a three-day journey to Whitby Abbey to barter for a holy relic, only to become involved in a murder investigation before bidding even begins. 
Between the gruesome murder and a generally unwelcoming feeling at the Abbey, Hildegard knows something isn't right. It's up to her to figure out the truth.
Get it: Amazon | Bookshop.org (support independent bookstores)
Save it to Pinterest!